Activists from Extinction Rebellion Youth Cambridge (XR Youth) attempted to stage a sit-in at a new NatWest branch in the city center this morning (10/30), only to find the bank had closed a half-hour hour earlier in anticipation of their widely publicized demonstration.
The group was seeking to put pressure on the bank, which is sponsoring COP26 – the climate change conference which begins tomorrow (10/31) in Glasgow.
Activists say the bank is guilty of "greenwashing" – offering an environmentally friendly facade while continuing to invest in fossil fuels. The aim of this demonstration was to ensure that the bank "puts its money where its mouth is" and fights against "the climate emergency".
The group, aimed at 18-30 year olds in Cambridge, is part of Extinction Rebellion, a global environmental movement that attempts to use civil disobedience to lead political action.
In addition to hosting demonstrations and sit-ins, XR Youth hosts meetings once a week at the Locker Cafe in Cambridge. They attract both students and city dwellers, seeking to connect local networks.
Today's action was mainly educational. Members sat in "learning circles" outside the bank, discussing what they saw as NatWest's climate failures and learning how "businesses are taking advantage of the Global South".
The group is cynical about efforts like that of COP26 to fight climate change. According to a leaflet distributed to members of the public, they "do not trust the capitalists to create positive change when capitalism plays a major role in creating the crisis".
Garlic, a member of the group, said NatWest, which "relies on economic growth", would not sponsor the COP unless it believed it would increase its profits.
Cambridge University was another topic of conversation during the sit-in. Pecan and other members of the group feared the University would widen the city's wealth gap and use their funds to solve important social issues.
Harvey, who sits on the League's ethical affairs committee, shared Pecan's concerns about the University's wealth.
"Their imperative is growth," he said. "They just sit on all this money, they accumulate wealth … You can see how they have locked up the community and they are hiding in their fortified buildings."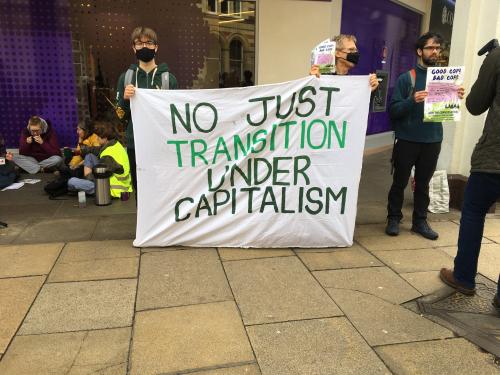 When asked if the University's recent divestment efforts were satisfactory, Harvey said they "haven't gone far enough."
"Look at the extent of their surrenders – they're lazy. They will not start for another eight years, by which time 90% of our fuel reserves should remain unused in the ground, "he added.
Harvey broadened his criticism to other areas of investment within the University, citing Cambridge's links to the arms trade which "is part of the same problem."
For these activists, the fight for the climate is "linked to other issues". Pecan claims he is working to "liberate youth" – "take the megaphone" from older generations who have already had their say.
It is activists like Pecan who want to refocus the environmental movement on a more radical agenda. He does not vote and thinks that change cannot go through the ballot box because "these institutions are not compatible with the resolution of the climate emergency".
Some members of the audience took flyers outlining the group's views on the COP and discussed climate priorities with XR Youth.
A passerby, Giles, said University that he agreed with XR Youth's take on climate change, but feared the group would be "lost in the weeds" when they oppose projects like HS2, which , he said, would help reduce carbon emissions.
When asked to comment on XR Youth's tactics to persuade through inconvenience, Giles explained that he was unsure if this was the best way to engage in climate change activism.
"The attempt to hold a sit-in at a retail branch of NatWest was an ineffective tactic, but the goal was great," he explained.
Jeff Zymeri contributed reporting.
University is the independent journal of the University of Cambridge, established in its present form in 1947. In order to maintain our editorial independence, our print journal and news website do not receive any funding from the University of Cambridge or its colleges constitutive.
So we depend almost entirely on advertising for fundraising and expect to have a few tough months and years ahead.
Despite this situation, we will be looking for inventive ways to serve our readership with digital content and of course in print!
Therefore, we ask our readers, if they wish, to donate from just £ 1 to help us cover our running costs. Thank you very much, we hope you can help us!
Source link